Exact Imaging chosen to receive significant repayable contribution as part of FedDev Ontario's Investing in Business Innovation initiative
TORONTO, Canada -- (April 30, 2015) Exact Imaging (
www.exactimaging.com
), the world's leader in high-resolution micro-ultrasound systems enabling real-time imaging and guided biopsies of the prostate, was chosen to receive a $980,000.00 CDN repayable contribution from the Federal Economic Development Agency for Southern Ontario (FedDev Ontario). The
announcement
was made by FedDev Ontario Minister Gary Goodyear as part of the
keynote address
that he delivered at the Business Innovation Summit 2015 in Toronto, ON.
"As outlined in Economic Action Plan 2015, our Government remains committed to creating jobs, growth and long-term prosperity," said the Honourable Gary Goodyear, Minister of State for FedDev Ontario. "We need to collaborate to innovate if we want Canada to thrive in the global, knowledge-based economy of the future. That's why we are making strategic investments such as supporting these eight companies, including Exact Imaging, with high-growth potential."
Exact Imaging is using the funding to finalize the design and development of a commercial version of its device, gain regulatory approval in Europe (CE) and then USA (FDA) and bring it to market in 2016. "FedDev Ontario has been a pleasure to work with and the investment in Exact Imaging has been most helpful in supporting critical and costly technical development for our novel imaging platform," says Randy AuCoin, Exact Imaging's President. "There is a direct correlation between this investment and the generation of highly expert full-time jobs and the creation by Exact Imaging of novel IP around our technology and products." The repayable contribution is one of eight announced by FedDev Ontario on April 29, 2015, through its
Investing in Business Innovation initiative
, which is aimed at strengthening the innovation ecosystem in southern Ontario by supporting new entrepreneurs, early-stage businesses and angel investors
Photo: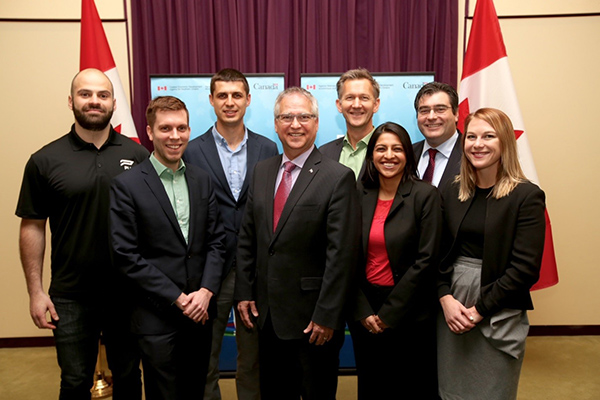 Randy AuCoin
, President of Exact Imaging (second on right) after receiving a $980,000.00 CDN repayable contribution from the Federal Economic Development Agency for Southern Ontario (FedDev Ontario). The
announcement
was made by
FedDev Ontario Minister Gary Goodyear
(centre) as part of the
keynote address
that he delivered at the Business Innovation Summit 2015 in Toronto, ON.
About Exact Imaging
(formerly Imagistx):
Exact Imaging (www.exactimaging.com) is the world's leader in high-resolution micro-ultrasound systems enabling real-time imaging and guided biopsies in the urological market for prostate cancer. Operating up to 29 MHz, the micro-ultrasound platform enables a whole new level of resolution comparable to MRI but with the benefits of ease of use, affordability, and being an extension of the current urological workflow. Using the Exact Imaging platform, urologists will now be able to visualize suspicious areas in the prostate and specifically target biopsies at those areas in addition to performing systematic trans-rectal ultrasound biopsy protocols. ExactVu™ micro-ultrasound system has CE marking (Certificate #649960) for sale in the European Union. The product is not yet commercially available in the US and Canada.
For further information, please contact: